ADMISSION
List of all successful candidates will be displayed on the notice board of the school. The parents of successful candidates will be required to contact the school office for the completion of admission formalities by depositing the required fee and other charges along with the necessary documents.
1. School leaving/transfer certificate, previous year's Report Card (from Class II onwards) and birth certificate for taking admission from Pre-nur to 1st Class.
2. Birth Certificate, in original, to be brought for verification only.
3. A recent passport size colour photograph of the candidate and both the parents.
4. Admission will be cancelled if any variance is found between the particulars filled in the Registration Form and the documents submitted for admission.
The eligibility criterion for various classes is based on the age of the child. For the next academic year the applicant's age as on 31 March 2023, as recorded in the birth certificate will determine the eligibility for admission to a particular class.
Recommended classes according to the age of student are as follows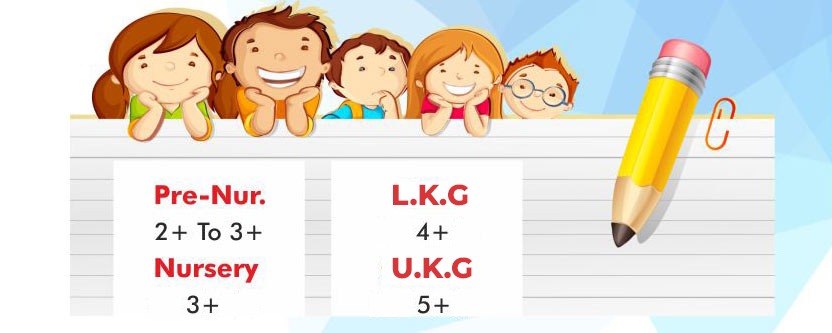 Observation-cum-Interaction For Classes Pre-nursery, Nursery, L.K.G and U.K.G
Admission to classes Pre-Nursery, Nursery, L.K.G and U.K.G will be granted on the basis of the Observation-cum-Interaction.
Assessment and Interaction Session for Class-I, Onwards
Class I onwards, written as well as oral assessment will be conducted. The entire procedure may last for two to three hours. Parents are advised to plan their schedules accordingly.
Before the commencement of the assessment, Parents must hand over the student's copy of the Admit Card to the Admission incharge.
Please note that the syllabus of the assessment for admission has been designed by a professional team of educationists and psychologists to make it stress free for children.